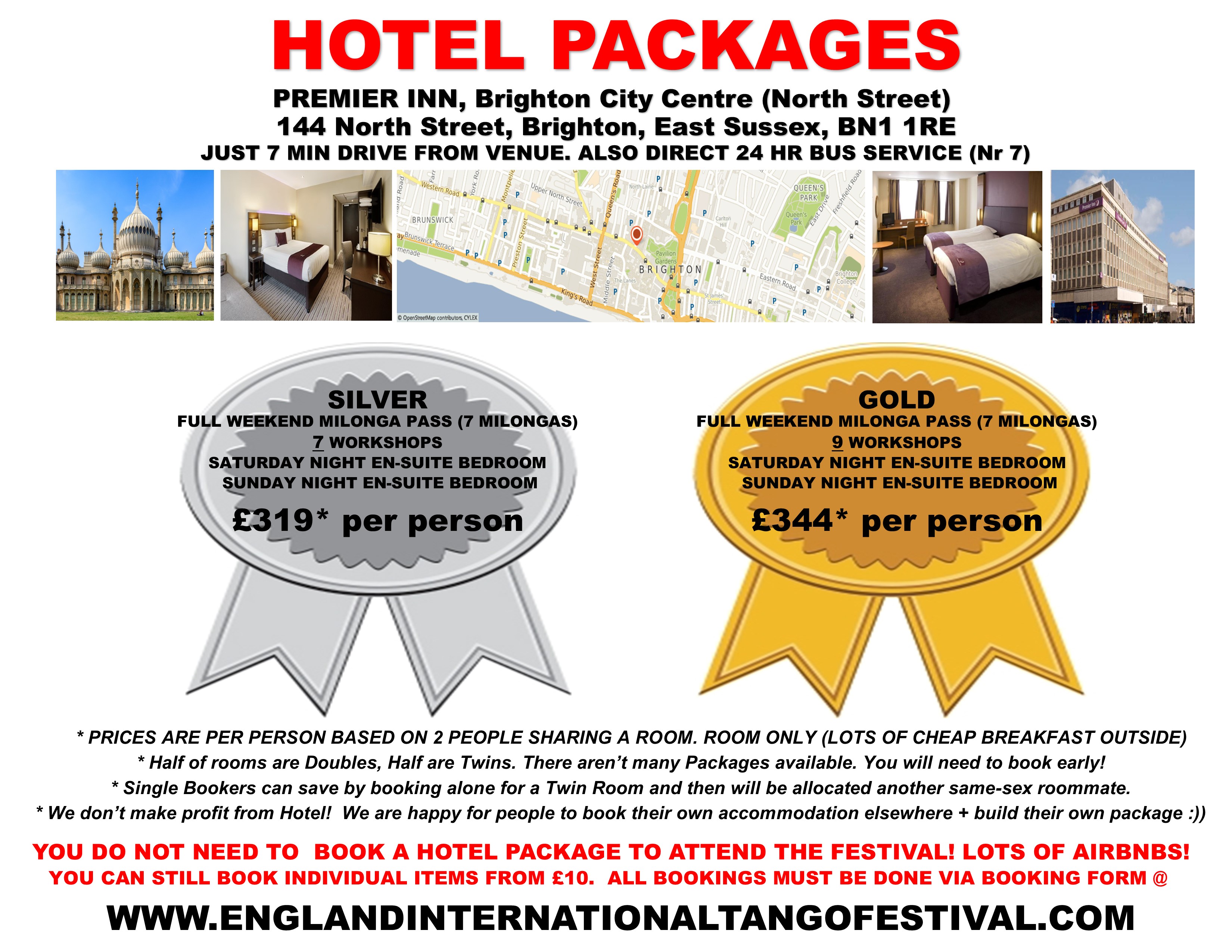 Brighton & Hove is popular year round with tourists and events. Demand for accommodation always outstrips supply and unfortunately prices are always high.

The good news is the venue is very well connected with Hove station 1 minute from the venue and plenty of buses to connect across town (inc late night). Taxi Rank is also 1 min away.

FESTIVAL HOTEL PACKAGE
Once we knew the Festival would again be in Brighton we pre-booked a number of rooms with the most affordable local hotel (7 -10 min drive). We booked the maximum number allowed but these are still very limited in number and will sell out quickly. The rooms are doubles or twins.

The hotel is right in the heart of Brighton, close to the Lanes (& Laines), Brighton Pavilion & Pier. The hotel is a shot walk from Brighton Station. The venue is approx 7-10minute drive. There is also a 24 hour bus service (number 7) which runs form outsite the hotel direc to Venue (Hove Station stop). The package is room only but there are loads of great breakfast venues outside (particularly North Laines)

The rooms are only available as part of the Festival Hotel Package (including Full Milonga Pass & number of Workshops). The package is on a per person basis but minimum room occupancy will need to be 2 people (so 2 friends or a couple).

Please note - We don't make profit from Hotel! We secured the rooms early to get best rates, which we pass on to you. We realise the packages are not the solution for everyone and are happy for people to book their own accommodation elsewhere + build their own package :))

OTHER ACCOMMODATION
We have also spent many frustrating hours trying to convince other locals hotels to give us better deals for bulk booking. Unfortunately in Hove many of the hotels are still operating as Refugee/Assylum Housing. Unfortunately most of the reopened local hotels are in a 'fill your boots' , summer season post covid mode and despite our best and prolonged efforts have finally refused to offer better bulk discounted rates.

HOTELS:
It is still possible to find single, double or twin rooms very locally in Hove, but it isn't cheap! So to save money you may prefer to book one in Brighton (Kemptown has more affordable b&bs) or a bit further out of Brighton. Nearby towns such as Worthing, Steyning, Burgess Hill, Haywards Heath currently have lots of good quality reasonably priced accom.

AIR BNB:
Lots of choice for all budgets. A number of our regular out of town visitors have booked airbnbs for the festival and it is probably the best option for many of you.

YOUTH HOSTELS/CAMPING:
Plenty around Brighton and slightly outside

LOCAL DANCERS HOSTING:
We are also hope a few a locals will offer hosting to visiting dancers. Details will be posted in a separate thread in the Facebook event in a few days.

Reminder if you want to book a hotel package you do need to book early. We can only book the package via the booking form which will be uploaded Friday April 14th 2pm.